Cancer of the vulva
ICD-10 C51
2019

¹ per 100,000 persons, age-standardised according to the old European standard population

* calculated using the period method for 2017 / 2018

Women
Incidence
3,293
Age-standardised incidence rate

¹

4.4
Deaths
1,016
Age-standardised mortality rate

¹

1.0
5-year prevalence
11,734
10-year prevalence
20,037
Relative 5-year survival rate*
73 %
Relative 10-year survival rate*
68 %
Through the first decade of this millennium, a substantial increase in incidence rates and a slight increase in mortality rates from vulvar cancer were observed in Germany. Since then, the rates have remained largely stable. In 2019, about 3,300 women were diagnosed with a malignant neoplasm of the vulva; 1,016 women died of this disease in the same year. The sharpest increase in disease rates was observed in women under 70 years of age, but these figures have stabilised since 2010 as well.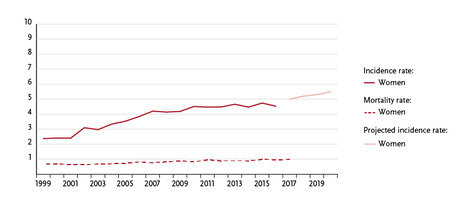 Age-standardised incidence and mortality rates, ICD-10 C51, Germany 1999 – 2016/2017, projection (incidence) through 2020, per 100,000 (old European standard population)
The greatest burden of disease is found among women over 70 years of age: the mean age at diagnosis of vulvar cancer is 73 years. The relative 5-year survival rate after diagnosis is 73 percent. Among cases with valid stage information, local tumours (stage I, limited to vulva/perineum) are the most common (approximately 65 to 67 percent).
Over the past several years, the highest rates of vulvar and cervical cancer have been found in the Federal State of Saarland. While mortality rates are largely comparable, incidence rates in Germany are higher than in neighbouring countries (figures not available from all neighbouring countries).
Human papillomaviruses are often the cause
Vulvar cancers are mostly squamous cell carcinomas (approximately 90 percent), whereby there are keratinizing and non-keratinizing forms. The former account for 50 to 80 percent of squamous cell carcinomas of the vulva.
Non-keratinizing vulvar cancers and their precursors, often associated with a chronic infection with human papilloma viruses (especially HPV 16), most often affect younger women. Keratinizing vulvar cancers and their precursors develop independently of HPV and primarily affect older women. The main risk factors are autoimmune-related processes, such as lichen sclerosus. The risk of vulvar cancer is also increased by smoking and long-term immunosuppression, e.g. after organ transplantation or HIV infection. Immunosuppression can promote HPV infection and can thus increase the risk of vulvar cancer. HPV-induced neoplasms of the genital and anal area - such as cervical or anal cancers and their precursors - as well as Paget's disease of the vulva are further risk factors.
There is no specific early detection examination for vulvar cancer and its precursors. However, the entire vulva should always be inspected during the gynaecological examination offered in conjunction with cervical cancer screening. Furthermore, HPV vaccination is considered to be a possible preventive measure.