Thyroid cancer
ICD-10 C73
2019

¹ per 100,000 persons, age-standardised according to the old European standard population

* calculated using the period method for 2017 / 2018


Women
Men
Incidence
3,954
1,830
Age-standardised incidence rate

¹

8.5
3.7
Deaths
426
311
Age-standardised mortality rate

¹

0.4
0.5
5-year prevalence
20,078
8,244
10-year prevalence
39,338
15,579
Relative 5-year survival rate*
95 %
91 %
Relative 10-year survival rate*
94 %
88 %
In 2019, approximately 3,954 women and 1,830 men were diagnosed with thyroid cancer. The average age at diagnosis was 51 years for women and 56 years for men. Between 1999 and 2018 age-standardised incidence rates increased, especially for women. Now thy seem to have reached a plateau. However, only the prognostically very favourable papillary carcinomas, which comprise the most frequent histological type in both women and men, contributed to this increase.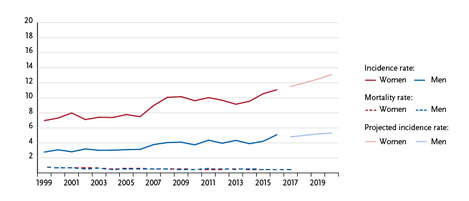 Age-standardised incidence and mortality rates by sex, ICD-10 C73, Germany 1999 – 2016/2017, projection (incidence) through 2020, per 100,000 (old European standard population)


Distribution of malignant neoplasms of the thyroid gland by histological type and sex, ICD-10 C73, Germany 2015 – 2016
The increase in thyroid cancer incidence is most likely due to increases in imaging diagnostics with improved examination methods. In an international comparison with selected countries, incidence rates in Germany lie in the middle of the range of rates. The highest rates are found in the USA and France. Thyroid cancer is mostly detected at an early stage (UICC I: 88 percent in women, 75 percent in men) and has a favourable prognosis with relative 5-year survival rates of 95 percent in women and 91 percent in men (exception: anaplastic carcinomas with only 10 percent).
Ionising radiation increases the risk of disease
Ionising radiation from the environment increases the risk of thyroid cancer. The thyroid gland is particularly sensitive to radiation during childhood. For example, the risk of thyroid cancer is increased if the thyroid gland lies within the radiation field during radiation therapy. The intake of radioactive iodine also increases risk, as was discovered in the Soviet republics affected by the Chernobyl reactor accident.
Other nutritional, lifestyle or environmental factors have not been convincingly shown to affect risk. It is also unclear why women are affected more often than men. Many patients have a history of iodine deficiency and benign thyroid diseases, such as goitre and adenomas, which increase the risk of thyroid carcinoma. Approximately one fifth of patients with rare medullary thyroid carcinomas carry genetic changes that are inherited in an autosomal dominant manner. Medullary thyroid carcinoma can also occur together with other endocrine tumours as a syndrome known as multiple endocrine neoplasia type 2 (MEN 2). A genetic component is also suspected in papillary thyroid carcinomas.