Testicular cancer
ICD-10 C62
2019

¹ per 100,000 persons, age-standardised according to the old European standard population

* calculated using the period method for 2017 / 2018


Men
Incidence
4,162
Age-standardised incidence rate

¹

10.4
Deaths
158
Age-standardised mortality rate

¹

0.3
5-year prevalence
19,925
10-year prevalence
38,993
Relative 5-year survival rate*
97 %
Relative 10-year survival rate*
97 %
In 2019, about 4,160 men in Germany were diagnosed with testicular cancer. This makes the disease one of the rarer types of cancer. In contrast to nearly all other types of cancer, most cases occur comparatively early in life, between the ages of 25 and 45 years. In this age group testicular cancer is the most common malignant tumour in men. The mean age at diagnosis of the disease is accordingly 37 years.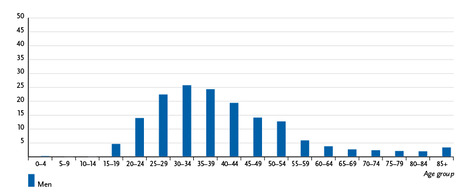 Age-specific incidence rates, ICD-10 C62, Germany 2015 – 2016, per 100,000
After a steady increase over decades also observed in other European countries, the age-standardised incidence rate has remained fairly constant over recent years. About 90 percent of testicular tumours are diagnosed at stage I or II. Histologically, testicular cancers are predominantly germ cell tumours, of which about two thirds are seminomas. About one in six cases is a malignant teratoma or a mixture of both types.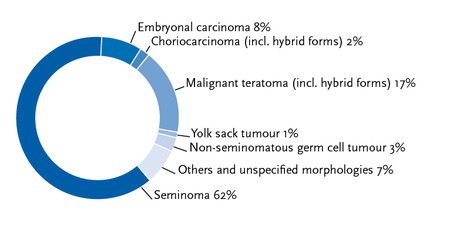 Distribution of malignant neoplasms of the testicles by histological type, ICD-10 C62, Germany 2015 – 2016
Comparatively favourable prognosis
Since the introduction of cis-platinum as chemotherapy for testicular cancer over 30 years ago, the disease has been among the most prognostically favourable malignant neoplasms with correspondingly high relative 5-year survival rates (most recently 97 percent) and low mortality (158 deaths in 2017).
Cryptorchidism (at least one undescended testis) is a risk factor for testicular cancer. In addition, men who have already had testicular cancer or a precancerous condition of the testicle have an increased risk of developing a tumour in the healthy testicle. Rare, genetically determined sexual development disorders such as Klinefelter syndrome also increase the risk of developing the disease.
A small proportion of those affected may have a familial predisposition. Sons and brothers of men with testicular cancer have a substantially increased risk.
A birth weight below 2,500 g or above 4,500 g and somatomegaly are also considered as possible risk factors. The causes of the increase in incidence observed over several decades have not been definitively clarified. Lifestyle and environmental factors do not play a role according to current knowledge.
There is evidence that early diagnosis correlates with a better prognosis. Adolescents and men are therefore advised to regularly self-examine themselves from puberty onwards. Starting at age 45, men can have an examination of the genital organs once a year as part of the statutory early cancer detection.