Stomach cancer (gastric cancer)
ICD-10 C16
2019

¹ per 100,000 persons, age-standardised according to the old European standard population

* calculated using the period method for 2017 / 2018


Women
Men
Incidence
5,746
9,131
Age-standardised incidence rate

¹

7.2
14.0
Deaths
3,428
5,099
Age-standardised mortality rate

¹

3.8
7.4
5-year prevalence
12,724
19,637
10-year prevalence
21,393
30,844
Relative 5-year survival rate*
37 %
34 %
Relative 10-year survival rate*
33 %
30 %
Around 5,746 women and 9,131 men were diagnosed with a malignant tumour of the stomach in 2019. Compared to women, the tumours in men occur about twice as often at the entrance to the stomach (cardia).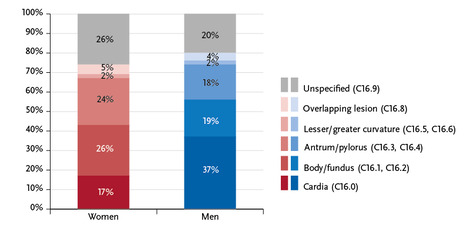 Distribution of malignant neoplasms of stomach by localisation and sex, ICD-10 C16 (excluding DCO cases), Germany 2015–2016
For decades, a steady decline in the incidence and mortality rates of stomach cancer has been observed in Germany - as in other industrialized nations. This trend is seen in all age groups, for both women and men. Tumours of the stomach outlet (antrum and pylorus) have decreased the most.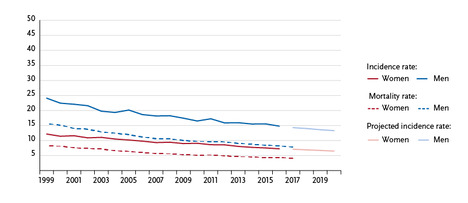 Age-standardised incidence and mortality rates by sex, ICD-10 C16, Germany 1999 – 2016/2017, projection (incidence) through 2020, per 100,000 (old European standard population)
Risk of developing stomach cancer increases with age in both sexes. On average, men develop stomach cancer at the age of 71, women at 76. Relative 5-year survival rates are currently estimated at 37 percent for women and 34 percent for men. Although the chances of survival have recently improved, they remain rather unfavourable compared to other cancers. In about 40 percent of cases with documented tumour stage, the disease has already metastasised at the time of diagnosis (stage IV).
Infection can increase risk of stomach cancer
The most important risk factor for stomach cancer is a bacterial infection of the stomach with Helicobacter pylori. Furthermore, about 5 to 10 percent of stomach carcinomas are attributed to an infection with the Epstein-Barr virus. Smoking and alcohol consumption also increase the risk of stomach cancer. Other risk factors include foods preserved by salting, high salt consumption and meat products. There is evidence that chronic heartburn or gastroesophageal reflux disease increases the risk of certain tumours in the transition from the stomach to the oesophagus. Furthermore, low socioeconomic status and previous gastric surgery are associated with an increased incidence of gastric cancer.
First-degree relatives of a person with stomach cancer have two- to three-times higher risk than the general population. If more than one first-degree relative is affected, the risk is about 10 times higher. It is unclear whether familial risk is due to a common lifestyle, a common genetic predisposition or a combination of both factors. Some hereditary syndromes increase the risk of stomach cancer. Pernicious anaemia is a risk factor that affects only a few people.