Pancreatic cancer
ICD-10 C25
2019

¹ per 100,000 persons, age-standardised according to the old European standard population

* calculated using the period method for 2017 / 2018

Women
Men
Incidence
9,729
9,956
Age-standardised incidence rate

¹

11.2
14.8
Deaths
9,638
9,584
Age-standardised incidence rate

¹

10.3
13.8
5-year prevalence
10,651
10,537
10-year prevalence
14,480
14,457
Relative 5-year survival rate*
10 %
10 %
Relative 10-year survival rate*
7 %
8 %
In 2019, approximately 19,685 people were diagnosed with pancreatic cancer in Germany. Due to its unfavourable prognosis, nearly the same number of people died from this disease. Since the end of the 1990s, the age-standardised incidence and mortality rates have risen slightly, particularly among people age 65 years and older. The absolute number of new cases and deaths has risen continuously over the years for both sexes, partly due to demographic developments.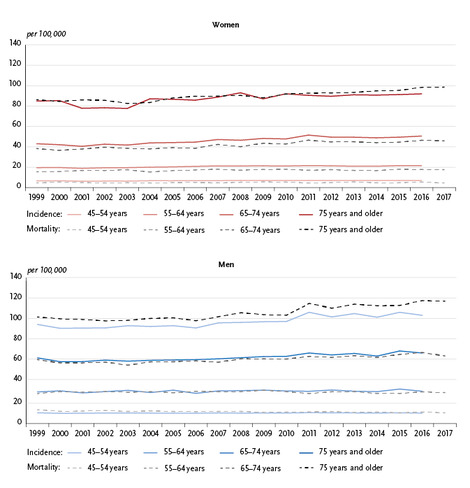 Age-standardised incidence and mortality rates of malignant neoplasms of the pancreas by age group and sex, ICD-10 C25, Germany 1999–2016/2017, per 100,000 (old European standard population)
Unfavourable prognosis for pancreatic cancer
Malignant neoplasms of the pancreas often cause no symptoms or only unspecific ones in their early stages, and so tumours are often detected late. Accordingly, the relative 5-year survival rate is extremely unfavourable. In Germany it is 10 percent for both sexes. Pancreatic cancer has the lowest survival rate of all cancers besides mesothelioma.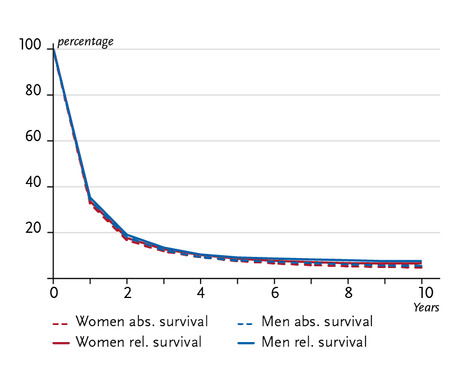 Absolute and relative survival rates up to 10 years after first diagnosis, by sex, ICD-10 C25, Germany 2015 – 2016
With a proportion of 8.6 percent (women) and 7.2 percent (men), it is the fourth most frequent cause of cancer death for both sexes. The average age at diagnosis is 76 years for women and 72 years for men.
Active and passive smoking increase the risk of disease
Smoking, both active and passive, is considered to be an established risk factor for pancreatic cancer. Severe overweight (obesity) and diabetes (diabetes mellitus type 2) also have a negative effect. This also applies to very high alcohol consumption. Patients with chronic inflammation of the pancreas (pancreatitis) also have an increased risk. Infections with pathogens such as Helicobacter pylori and hepatitis B (or HIV) are associated with the risk of developing pancreatic cancer. First-degree relatives of patients with pancreatic cancer are more often affected themselves than average. This may be due to hereditary factors, such as a BRCA-2 mutation, or a shared lifestyle. Very frequent consumption of processed meat products or smoked or grilled foods could also increase the risk of pancreatic cancer.
The role of environmental factors or occupational exposure to pollutants has not been clarified. Furthermore, the following are being investigated as possible risk factors for pancreatic cancer: pesticides, herbicides, fungicides, chlorinated hydrocarbons, chromium and chromium compounds, electromagnetic fields and fuel fumes.