Ovarian cancer
ICD-10 C56
2019

¹ per 100,000 persons, age-standardised according to the old European standard population

* calculated using the period method for 2017 / 2018


Women
Incidence
7,319
Age-standardised incidence rate

¹

10.7
Deaths
5,291
Age-standardisedmortality rate

¹

6.5
5-year prevalence
21,338
10-year prevalence
33,690
Relative 5-year survival rate*
42 %
Relative 10-year survival rate*
33 %
Cancer of the ovaries accounts for one third of all malignant neoplasms of the female genitals and for half of all deaths from cancer of these organs. The incidence rate increases continuously until the age of 85, and the average age at diagnosis of the disease is 69 years.
Histologically, malignant tumours of the ovaries are predominantly moderately to poorly differentiated serous adenocarcinomas. Some rare forms of ovarian cancer, e.g. germ cell tumours, can occur in children and young women.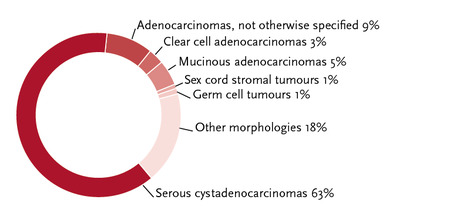 Distribution of malignant neoplasms of the ovaries by histological type, ICD-10 C56, Germany (excluding Saarland) 2015–2016
About one in 76 women will develop ovarian cancer over the course of their lifetimes. Since the turn of the millennium, the incidence and mortality rates of ovarian cancer in Germany have declined substantially, and the absolute number of new cases has also fallen.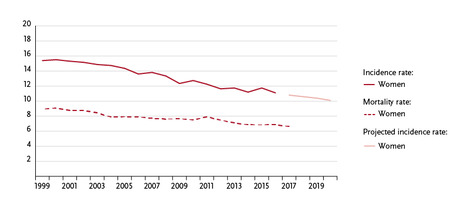 Age-standardised incidence and mortality rates, ICD-10 C56, Germany 1999 – 2016/2017, projection (incidence) through 2020, per 100,000 (old European standard population)
Unfavourable prognosis: tumours are often discovered late
Due to the fact that women with ovarian cancer are often diagnosed at a late stage (76 percent in stages III/IV), their chances of survival are relatively poor. The relative 5-year survival rate is currently 42 percent. If the disease is detected early, 5-year relative survival rates are 88 percent in stage I and 79 percent in stage II.
Hormones influence cancer risk
Risk of developing ovarian cancer increases with age. Excess weight and hormonal factors also influence the risk: childlessness or infertility increase risk, whereas multiple births and longer periods of breastfeeding reduce risk. Whether early menarche (first menstruation) and a late onset of menopause also increase the risk has not yet been clearly established. In women with multiple ovarian cysts, hormonal factors probably increase the risk. Hormone replacement therapy, especially oestrogen monotherapy, is also a risk factor in post-menopausal women. In contrast, ovulation inhibitors (oral contraceptives) have a protective effect. Sterilisation by closing the fallopian tubes reduces the risk of ovarian cancer.
Women whose first-degree relatives have had breast or ovarian cancer, as well as women with breast, uterine or colon cancer, are more likely to develop ovarian cancer. Often in these cases, there are mutations of the genes BRCA1 and BRCA2. These mutations substantially increase the risk of the disease, but only play a role in one in 10 affected women in Germany.