Cancer of the oral cavity and throat
ICD-10 C00-C14
2019

¹ per 100,000 persons, age-standardised according to the old European standard population

* calculated using the period method for 2017 / 2018

Women
Men
Incidence
4,470
9,634
Age-standardised incidence rate

¹

6.7
16.5
Deaths
1,479
3,888
Age-standardised death rate

¹

1.9
6.6
5-year prevalence
15,400
30,641
10-year prevalence
24,451
48,915
Relative 5-year survival rate*
62 %
52 %
Relative 5-year survival rate*
51 %
40 %
Cancers of the oral cavity and throat (oral and pharyngeal cancers) represent a heterogeneous group of malignant neoplasms. Histologically, 84 percent are squamous cell carcinomas and about 3 percent are adenocarcinomas, the latter especially in the salivary glands. Men develop these cancers more frequently and on average three years earlier than women (men currently at 64 years of age, women at 66). Tumours of the oropharynx are most frequently diagnosed in men, while malignant neoplasms of the oral cavity and lip are most common in women.


Distribution of malignant tumours of the oral cavity and pharynx by localisation and sex, ICD-10 C00-C14, Germany 2015–2016
Age-standardised incidence rates rose for both sexes between 1999 and 2011. Since 2011, the rates for women have remained nearly constant, and for men there has even been a decline. The corresponding mortality rates for men have declined slightly over the entire period, whereas they have remained almost unchanged for women.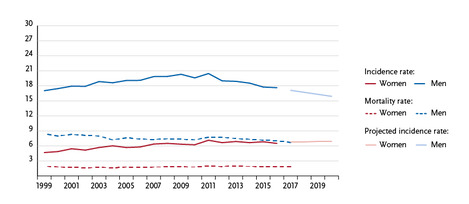 Age-standardised incidence and mortality rates by sex, ICD-10 C00-C14, Germany 1999 – 2016/2017, projection (incidence) through 2020, per 100,000 (old European standard population)
On average, women, at 62 percent, have higher relative 5-year survival rates than men, at 52 percent. This is due to a smaller proportion of cancers of the floor of the mouth, tongue and throat in women. These cancers can be caused by tobacco and alcohol consumption and are associated with lower chances of survival than, for example, malignant tumours of the lip and salivary glands.
Tobacco, alcohol and viruses most important risk factors
The main risk factors for developing cancer of the oral cavity and throat are tobacco and alcohol consumption in all their forms. If both substances are consumed together, the effect is substantially increased.
Another major risk factor is chronic infection with human papilloma viruses (HPV), especially with so-called high-risk viruses. HPV infections cause cancer of the throat (pharynx) in particular, but much less frequently in the oral cavity.
Infections with Epstein-Barr viruses and the consumption of large quantities of food containing nitrosamines (for example salted fish) are regarded as risk factors for nasopharyngeal carcinoma. In carcinomas of the lip, UV radiation contributes to the development of cancer. There is evidence that an unbalanced, low-vitamin diet with excessive consumption of meat and fried food can increase risk of these cancers. For people with certain rare conditions, risk of cancer of the oral cavity and lips is increased. A genetic predisposition for the development of carcinomas of the head and neck area is also assumed to exist, since familial clustering has been observed.