Non-melanoma skin cancer
ICD-10 C44
2018

¹ per 100,000 persons, age-standardised according to the old European standard population

* calculated using the period method for 2017 / 2018

Women
Men
Incidence
94,200
105,230
Age-standardised incidence rate

¹

122.4
152.2
Deaths
430
536
Age-standardised mortality rate

¹

0.3
0.7
5-year prevalence*
103 %
103 %
10-year prevalence*
107 %
106 %
About three quarters of malignant non-melanoma skin cancers are basal cell carcinomas. These tumours metastasize only in exceptional cases, for example when the immune system is weakened, and are therefore rarely life-threatening. They can, however, invade the surrounding tissue, for example the bone, and thus lead to considerable degradation of quality of life. Squamous cell carcinomas account for almost a quarter of malignant non-melanoma skin tumours. The majority of these two types of tumour occur on the head or neck. Rare forms of non-melanoma skin cancer include Merkel cell carcinomas, which are a form of neuroendocrine tumour, dermatofibrosarcoma and carcinomas of the sebaceous and sweat glands.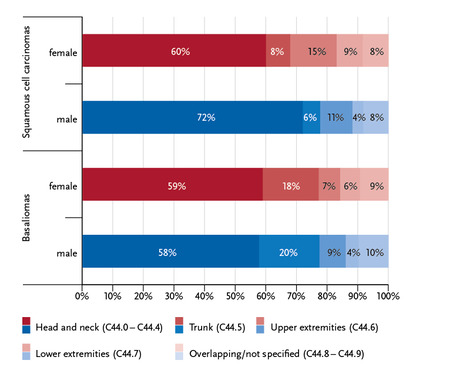 Distribution of the most frequent non-melanoma skin cancers by histology, region of the body and sex, ICD-10 C44, Germany 2015–2016
In 2018, an estimated 200,000 people in Germany were diagnosed with non-melanotic skin cancer for the first time, compared to about 1,000 deaths recently. Similar to malignant melanoma, the incidence rates rose significantly after the introduction of skin cancer screening. The recent noticeable decline can possibly also be explained by a declining detection rate.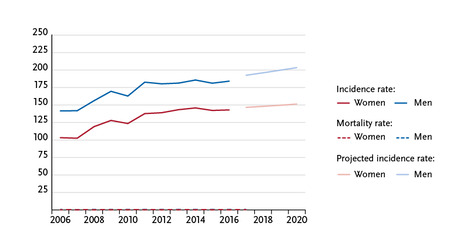 Age-standardised incidence and mortality rates by sex, ICD-10 C44, Germany 2006 – 2016/2017, projection (incidence) through 2020, per 100,000 (old European standard population)
Even though international data are not as reliable as for malignant melanoma, an increase in the incidence of non-melanoma skin cancer in recent decades can be seen in western industrialized nations.
Ultraviolet radiation is the most important risk factor
Non-melanoma skin cancer occurs more frequently in people with light skin than in people with darker skin. The most important risk factor for non-melanoma skin cancer is a strong exposure of the skin to ultraviolet (UV) rays. It does not matter whether this comes from the sun, the solarium or from other artificial UV sources. The risk of squamous cell carcinoma increases with the cumulative (life-long) UV dose. In the case of basal cell carcinoma, the risk tends to increase with intermittent, intense UV exposure.
Persons who have already had a basal cell carcinoma or squamous cell carcinoma have an increased risk of developing that type of skin cancer again. Non-melanoma skin cancer can also develop after many years of exposure to arsenic, on radiation-damaged skin (for example after radiation therapy) or under immunosuppressive therapy, for example after an organ transplant. In accordance with the statutory guidelines for the early detection of cancer, men and women 35 years of age and older are entitled to a skin examination by a specially trained doctor (dermatologist, general practitioner) every two years.