Non-Hodgkin lymphoma
ICD-10 C82-C88
2019

¹ per 100,000 persons, age-standardised according to the old European standard population

* calculated using the period method for 2017 / 2018

Women
Men
Incidence
8,013
10,323
Age-standardised incidence rate

¹

10.8
16.5
Deaths
3,145
3,885
Age-standardised mortality rate

¹

3.1
5.2
5-year prevalence
29,110
34,973
10-year prevalence
49,524
57,513
Relative 5-year survival rate*
71 %
70 %
Relative 10-year survival rate*
64 %
64 %
Non-Hodgkin lymphomas are a heterogeneous group of cancers that originate from cells of the lymphatic system called lymphocytes. The various lymphomas differ in terms of prognosis and therapeutic options depending on cell type as well as clinical and molecular characteristics.
In 2019, approximately 18,336 people in Germany were diagnosed with non-Hodgkin lymphoma. The disease is typically diagnosed in persons of advanced age. On average, women were 72 years old at the time of diagnosis and men were 70 years old.
The increasing age-standardized incidence rates must be interpreted in the context of changing diagnostic criteria, since chronic lymphocytic leukaemia is now frequently classified as a non-Hodgkin lymphoma. The age-standardised mortality rates for both women and men declined in the first decade after the turn of the millennium and have remained at about the same level since then.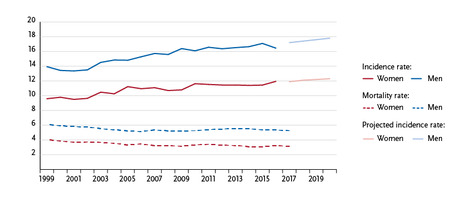 Age-standardised incidence and mortality rates by sex, ICD-10 C82-C88, Germany 1999 – 2016/2017, projection (incidence) through 2020, per 100,000 (old European standard population)
The average prognosis for non-Hodgkin lymphomas is rather good overall, with relative 5-year survival rates of 71 percent for women and 70 percent for men, but mortality risk remains elevated throughout the course of the disease.
Various factors can increase the risk of disease
No single factor is known to influence risk of all types of non-Hodgkin lymphoma. A congenital or acquired immune deficiency, radioactive radiation, chemotherapy and some rare autoimmune diseases may increase the risk of certain lymphomas. Some pathogens are also considered risk factors for specific types of lymphoma. For example, the Epstein-Barr virus (EBV) can contribute to the development of Burkitt's lymphoma, which is endemic mainly in Africa. An infection with Helicobacter pylori bacteria plays a key role in the development of MALT lymphoma of the stomach.
Benzene and related substances can promote the development of specific non-Hodgkin lymphomas. Other environmental toxins and lifestyle factors are also being discussed as possible causes of lymphomas. Familial clustering of lymphomas may indicate an elevated lymphoma risk for unaffected relatives, but the precise connections are still unclear.
For many lymphoma patients, no clear cause can be identified. Presumably, several factors must interact before non-Hodgkin lymphoma develops.