Multiple myeloma
ICD-10 C90
2019

¹ per 100,000 persons, age-standardised according to the old European standard population

* calculated using the period method for 2017 / 2018

Frauen
Männer
Incidence
2,949
3,741
Age-standardised incidence rate

¹

3.6
5.6
Deaths
1,884
2,116
Age-standardised mortality rate

¹

1.8
2.8
5-year prevalence
9,529
12,383
10-year prevalence
14,164
17,996
Relative 5-year survival rate*
54 %
56 %
Relative 10-year survival rate*
37 %
39 %
Multiple myeloma and plasma cell neoplasms are malignant proliferations of antibody-producing plasma cells. This type of cancer usually first occurs in the bone marrow, where it often forms several disease foci (multiple myeloma) with corresponding complications such as bone fractures and pain or blood count changes. Only about 1 percent of cases are diagnosed in organs outside the bone marrow (extramedullary plasmacytoma).
In 2019, multiple myeloma was diagnosed in about 2,949 women and 3,741 men in Germany. Disease risk increases significantly with age; diagnoses before the age of 45 are extremely rare (about 1.5 percent of all cases). Recent age-standardised incidence and mortality rates among women and men have been fairly constant.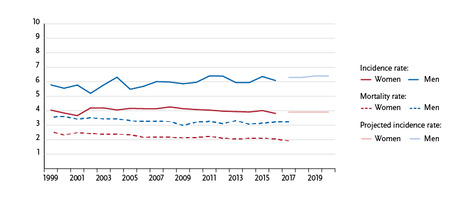 Age-standardised incidence and mortality rates by sex, ICD-10 C90, Germany 1999 – 2016/2017, projection (incidence) through 2020, per 100,000 (old European standard population)
With relative 5-year survival rates of 54 percent for women and 56 percent for men, the prognosis is rather unfavourable. Generally, a permanent cure is not to be expected. However, the disease can show few symptoms for a relatively long time, and temporary remissions are possible under therapy.
Few established risk factors
The causes of multiple myeloma are still largely unknown. A monoclonal gammopathy of unclear significance (MGUS) is considered a precursor of multiple myeloma. Other recognised risk factors for multiple myeloma are advanced age, male gender and family history of multiple myeloma.
Despite the observed family clustering, heredity has not yet been proven with certainty. Differences in frequency in different population groups also suggest that genetics plays a role.
Chronic infections, such as HIV infection or hepatitis C virus infection, are associated with an increased risk of multiple myeloma. Recent study data also suggest that being overweight is associated with an increased risk.
There is contradictory evidence as to whether certain lifestyle habits, exposure to environmental toxins or radiation influence the risk of multiple myeloma.