Malignant melanoma of the skin
ICD-10 C43
2018

¹ per 100,000 persons, age-standardised according to the old European standard population

* calculated using the period method for 2017 / 2018


Women
Men
Incidence
10,648
11,763
Age-standardised incidence rate

¹

18.0
19.3
Deaths
1,232
1,789
Age-standardised mortality rate

¹

1.4
2.6
5-year prevalence
49,606
50,344
10-year prevalence
91,382
87,298
Relative 5-year survival rate*
95 %
93 %
Relative 10-year survival rate*
94 %
93 %
In 2019, about 22,411 people in Germany were diagnosed with a malignant melanoma of the skin, affecting approximately the same number of women as men. The average age at diagnosis among women is comparatively low at 62 years. Men develop the disease on average 6 years later. The age-standardised incidence rates for women and men rose sharply around the year 2008. This is most likely a consequence of the skin cancer screening introduced in Germany in July 2008.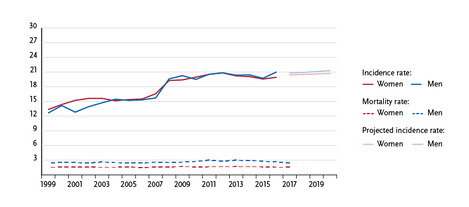 Age-standardised incidence and mortality rates by sex, ICD-10 C43, Germany 1999 – 2016/2017, projection (incidence) through 2020, per 100,000 (old European standard population)
Over the long term, the incidence for both sexes has increased more than fivefold since the 1970s. In contrast, mortality rates have only increased slightly for men over the same period. The predominant type of malignant melanoma is superficial spreading melanoma, which is associated with a favourable prognosis and is largely responsible for the increase in incidence rates.
Other forms, in particular nodular and amelanotic melanoma, have a much less favourable prognosis. Currently, the overall relative 5-year survival rates with malignant melanoma of the skin in Germany are 95 percent for women and 93 percent for men. About 70 percent of all melanomas are discovered at an early stage (stage I).
Compared to men, women have more tumours on the lower extremities (legs and hips). In men, malignant melanomas are diagnosed much more frequently on the torso.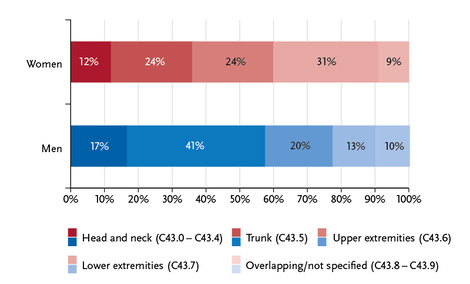 Distribution of malignant melanomas of the skin by region of the body and sex, ICD-10 C43, Germany 2015–2016
UV radiation most important risk factor
The most important exogenous risk factor for malignant melanoma is ultraviolet (UV) radiation, especially recurrent, intense sun exposure. This applies both to natural radiation from the sun and to artificial UV radiation, for example in a solarium. Sunburn at any age increases risk.
Among the most important endogenous risk factors are light skin and an abundance of freckles. People with a large number of benign moles on their bodies or who develop dysplastic moles are also at a higher risk of developing malignant melanoma. Certain birth marks, called congenital melanocytic naevi, may also increase risk, especially large ones.
Persons who have already been diagnosed with a melanoma are at increased risk of developing another melanoma. If first-degree relatives have had a malignant melanoma, this may indicate a familial increased risk due to genetic mutations. Depending on the mutation, the risk of developing melanoma may be increased to varying degrees.
In accordance with the statutory skin cancer screening programme, men and women 35 years of age and older are entitled to a visual skin examination every two years by a doctor with appropriate training (including dermatologists and family doctors).