Lung cancer
ICD-10 C33–C34
2019

¹ per 100,000 persons, age-standardised according to the old European standard population

* calculated using the period method for 2017 / 2018


Women
Men
Incidence
23,546
35,675
Age-standardised incidence rate

¹

33.0
54.7
Sterbefälle
16,999
27,882
Age-standardised mortality rate

¹

22.2
41.1
5-year prevalence
39,453
54,029
10-year prevalence
54,322
75,868
Relative 5-year survival rate*
22 %
17 %
Relative 10-year survival rate*
16 %
12 %
In 2019, approximately 23,546 women and 32,701 men were diagnosed with malignant tumours of the lung. 16,999 women and 27,882 men died of this disease.
The age-standardised incidence and mortality rates in women have been developing in opposite directions as those for men. Since the end of the 1990s, rates have risen continuously for women, whereas the rates for men have fallen over the same period. These different trends can be attributed to changes in smoking habits that took place some time ago and are likely to continue.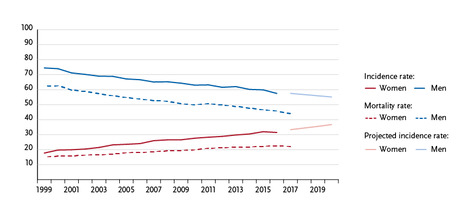 Age-standardised incidence and mortality rates by sex, ICD-10 C33-C34, Germany 1999 – 2016/2017, projection (incidence) through 2020, per 100,000 (old European standard population)
Lung cancer has one of the most unfavourable prognoses, which is reflected in a low relative 5-year survival rate of about 22 percent for women and 17 percent for men. However, as with all cancers, chances of survival vary considerably according to the stage of the disease. Since lung cancer often causes no symptoms in the early stages, however, the disease is often discovered late - and often unexpectedly.
Histologically, there are three main types of lung cancer: Adenocarcinomas account for 42 percent of all cases, squamous cell carcinomas account for around a quarter and small-cell carcinomas for nearly a fifth.


Distribution of malignant neoplasms of the lung by histological type and sex, ICD-10 C33–C34, Germany 2015–2016
Internationally, high incidence rates are reported from Denmark for women and from Belgium for men.
Smoking affects incidence rates
Tobacco consumption is the main risk factor for lung cancer. Up to nine out of ten cases in men and at least six out of ten cases in women are attributable to active smoking. Second-hand smoking also increases the risk of lung cancer.
Other risk factors play a comparatively minor role. About 9 to 15 out of every 100 lung cancer cases are attributed to carcinogenic substances, including asbestos, polycyclic aromatic hydrocarbons and quartz and nickel dusts. In areas with high natural radon exposure, the risk of lung cancer among residents is elevated, especially in apartments near the ground floor. The same applies to occupational exposure to radon or other sources of ionising radiation. Diesel exhaust fumes and particulate matter are the most important air pollutant risk factors. An influence of hereditary factors is also suspected.
There is still no suitable method for the early detection of lung cancer for the general population. Studies are currently investigating whether and for whom early detection examinations using low-dose computed tomography could be recommended. Regular screening for lung cancer is not yet a standard procedure.