Liver cancer
ICD-10 C22
2019

¹ per 100,000 persons, age-standardised according to the old European standard population

* calculated using the period method for 2017 / 2018


Women
Men
Incidence
2,953
6,510
Age-standardised incidence rate

¹

3.6
9.8
Deaths
2,649
5,519
Age-standardised mortality rate

¹

3.0
7.9
5-year prevalence
4,099
9.499
10-year prevalence
5,843
12,480
Relative 5-year survival rate*
14 %
18 %
Relative 10-year survival rate*
12 %
11 %
Although liver cancer is relatively rare, it is one of the most frequent causes of cancer death due to its poor prognosis. In Germany, there are currently about 9,500 new cases per year, with about 8,000 deaths. On average, men are diagnosed at the age of 71 years and women at 75 years.
Prognosis mostly unfavourable
The prognosis for liver cancer depends on the stage of the cancer and the condition of the liver. Overall, the relative 5-year survival for men and women is around 16 percent. Only for pancreatic cancers is the prognosis less favourable. For stage I tumors (single tumor, without blood vessel or lymph node involvement and without distant metastases), the relative 5-year survival is 62 percent for women and 54 percent for men. In stage IV (lymph node involvement or distant metastases), however, the 5-year relative survival rate is only 2 percent.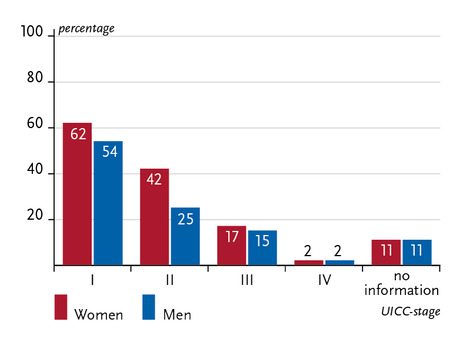 Relative 5-year survival by UICC-stage and sex, ICD-10 C22, Germany 2015 – 2016
Since 1999, the age-standardised incidence and mortality rates have risen slightly for both sexes. In the last 5 years, the increase does not seem to have continued. For men there are even signs of a decrease.
Incidence and mortality rates in the north-western federal states are slightly lower than in the rest of Germany. Internationally, incidence and mortality rates are particularly high among men in France.
Alcohol and viruses are the most important risk factors
The main risk factor for liver cancer in Germany is cirrhosis of the liver. In Germany, its most common causes are chronic hepatitis C virus infection and high alcohol consumption. Non-alcoholic fatty liver disease (NAFLD) increases the risk of liver cancer and is becoming increasingly important. Among other things, NAFLD can occur due to diabetes mellitus or a metabolic syndrome. These, in turn, are often triggered by obesity. According to a research study, alcohol consumption in Germany is responsible for 15 percent of new liver cancer cases in women and 35 percent in men.
A chronic hepatitis B virus infection, even without liver cirrhosis, is a risk factor for liver cancer. This risk factor is particularly important in Africa and South East Asia. Smoking also increases the risk of the liver cancer. The consumption of food containing the mould toxin aflatoxin B1 is relevant today mainly in less developed countries. Hereditary metabolic diseases such as hemochromatosis, porphyria or alpha-1-antitrypsin deficiency can also increase the risk of liver cancer.
Early detection examinations for the general population are not part of the statutory screening services. Patients with liver cirrhosis, chronic hepatitis B or C infection or steatohepatitis should be offered regular ultrasound scans. The measurement of blood values (alpha-fetoprotein) plays a minor role.
Liver cancer and cancer of the bile ducts
Approximately 65 percent of tumours within the liver (ICD-10 C22) develop from liver cells (hepatocellular carcinomas) and about 26 percent from cells of the bile ducts (intrahepatic cholangiocarcinomas). However, cancers of the bile ducts also occur outside the liver as distal cholangiocarcinomas and Klatskin tumours and are classified under code C24 according to the current classification system. The following figure shows the distribution of hepatocellular carcinomas as well as all tumours of the bile ducts according to sex. In women the total proportion of cholangiocarcinomas is higher than that of hepatocellular carcinomas. In men, hepatocellular carcinomas still predominate.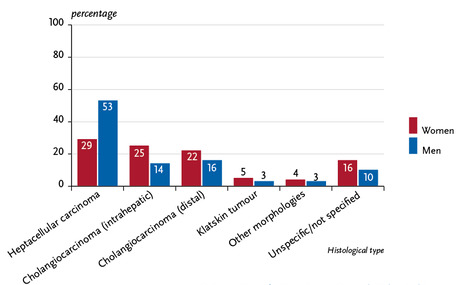 Distribution of malignant neoplasms of the liver and biliary tracts by histological type and sex, ICD-10 C22 and C24, Germany 2015–2016