Kidney cancer
ICD-10 C64
2019

¹ per 100,000 persons, age-standardised according to the old European standard population

* calculated using the period method for 2017 / 2018


Women
Men
Incidence
4,821
9,266
Age-standardised incidence rate

¹

6.5
15.1
Deaths
1,920
3,230
Age-standardised mortality rate

¹

1.8
4.5
5-year prevalence
19,458
35,278
10-year prevalence
35,558
61,258
Relative 5-year survival rate*
76 %
78 %
Relative 10-year survival rate*
70 %
71 %
Malignant neoplasms of the kidney can originate from different types of tissue. Among adult kidney tumours, renal cell carcinomas (hypernephromas) are the most common, accounting for nearly 95 percent of all tumours. In children, who are rarely affected, nephroblastomas (Wilms tumours) predominate. A total of about 14.100 new cases of kidney cancer occurred in 2019; men were affected almost twice as often as women.
Age-standardised incidence rates have been declining for both sexes since around 2008. A slight downward trend in age-standardised mortality rates can be observed for both men and women at least since 1999.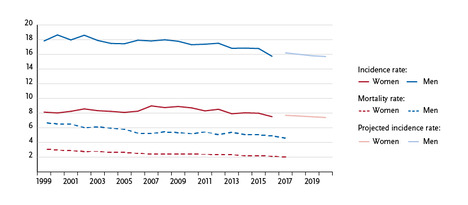 Age-standardised incidence and mortality rates by sex, ICD-10 C64, Germany 1999 – 2016/2017, projection (incidence) through 2020, per 100,000 (old European standard population)
The mean age at diagnosis of kidney cancer is 68 for men and 72 for women. Furthermore, the prognosis is comparatively favourable: the relative 5-year survival rate is 76 percent for men and 78 percent for women. More than half of all tumours are diagnosed at an early stage (UICC I/II). A regional comparison shows increased incidence and mortality rates in eastern German states. Internationally, incidence and death rates in the Czech Republic are relatively high.
Smoking, high blood pressure and excess body weight are the most important risk factors
Smoking and second-hand smoking as well as high blood pressure and excess body weight are considered to be the most important risk factors. In addition, lack of physical activity seems to increase the risk of developing kidney cancer. Chronic renal insufficiency, regardless of its cause, also promotes tumours of the kidney. Renal insufficiency can be caused, for example, by drugs that damage the kidneys or repeated inflammation of the urinary tract. Furthermore, after a kidney transplant, immunocompromised patients have an increased risk of developing renal cell carcinoma.
A familial predisposition is likely to play a role only in comparatively few affected persons. Approximately 4 percent of renal cell carcinomas occur in persons with complex hereditary diseases, for example in those with von Hippel-Lindau syndrome. These genetically determined renal cell carcinomas are often multifocal, bilateral and occur more frequently at a younger age than renal cell carcinomas in patients without genetic predisposition.