Cancer in gallbladder and biliary tract
ICD-10 C23-C24
2017

¹ per 100,000 persons, age-standardised according to the old European standard population

* calculated using the period method for 2015 / 2016

Women
Men
Incidence
2,828
2,506
Age-standardised incidence rate

¹

3.2
3.7
Deaths
2,071
1,727
Age-standardised mortality rate

¹

2.1
2.5
5-year prevalence
3,900
4,000
10-year prevalence
5,700
5,500
Relative 5-year survival rate*
18 %
22 %
Relative 10-year survival rate*
16 %
18 %
In Germany, about 5,334 new cases of malignant tumours of the gallbladder (about 32 percent) and the bile ducts outside the liver (68 percent) were diagnosed in 2017. The proportion of bile duct tumours outside the liver was higher in men (79 percent) than in women (60 percent). Histologically, tumours at these sites are predominantly adenocarcinomas. Of bile duct cancers, about 11 percent were so-called Klatskin tumours.
Similar to liver cancer, the risk of developing cancer of the gallbladder and bile ducts increases continuously with age. One out of 190 women and one out of 210 men will develop this tumour during their lifetime.
Since 1999, the age-standardised incidence and mortality rates among women have declined, mainly due to a decrease in gallbladder cancer. In men, incidence has remained largely constant, while age-standardised mortality declined until around 2009, only to rise slightly thereafter.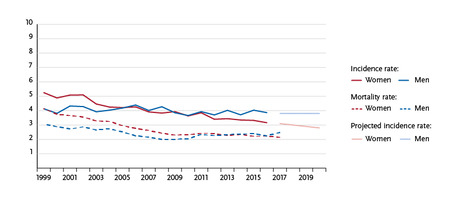 Age-standardised incidence and mortality rates by sex, ICD-10 C23-C24, Germany 1999 - 2016/2017, projection (incidence) through 2020, per 100,000 (old European standard population)
The relative 5-year survival rates for malignant tumours of the gallbladder and bile ducts are rather low, at 18 percent for women and 22 percent for men.
Certain diseases can increase the risk of tumours
The causes of bile duct and gallbladder cancers are not fully understood. The main risk factor is age. Severe overweight and primary sclerosing cholangitis (PSC) are considered risk factors for both tumour sites. Large gallbladder polyps, inflammation of the gallbladder (and its consequence, the porcelain gallbladder) as well as gallstones can increase the risk of gallbladder cancer. In addition to chronic inflammatory diseases of the bile ducts, possible risk factors for bile duct cancer include the following conditions: congenital disorders of the bile ducts (Caroli syndrome), bile duct stones in the liver, choledochal cysts, diabetes mellitus, hepatitis B and C virus infections, liver diseases due to high alcohol consumption, chronic inflammatory bowel disease and smoking. In Asia in particular, parasitic liver flukes are another risk factor for cancers of the bile ducts and gallbladder.
Screening examinations of the general population are not recommended. For certain risk groups (such as patients with gallbladder polyps, stones or PSC) regular check-ups can be considered.