Colorectal cancer
ICD-10 C18-C20
2019

¹ per 100,000 persons, age-standardised according to the old European standard population

* calculated using the period method for 2017 / 2018


Women
Men
Incidence
26,266
32,701
Age-standardised incidence rate

¹

31.9
49.8
Deaths
11,016
13,032
Age-standardised mortality rate

¹

11.2
18.3
5-year prevalence
88,594
109,112
10-year prevalence
148,150
180,670
Relative 5-year survival rate*
65 %
63 %
Relative 10-year survival rate*
62 %
57 %
About one in eight incident cancers in Germany affects the large intestine (colon) or rectum. In 2019, approximately 26,270 women and 32,701 men were newly diagnosed.
Current incidence rates indicate that one in 19 women and one in 16 men will be diagnosed with colorectal cancer during their lifetimes. About two thirds of these cancers will be detected in the colon. The risk of developing colorectal cancer increases with age. More than half of patients are diagnosed after the age of 70, and only about 10 percent of colorectal cancers occur before the age of 55. This corresponds to a comparatively high median age at diagnosis of 76 (women) and 72 (men).
After briefly increasing, age-standardised incidence rates began to decline around 2003, a trend that has recently intensified. With the exception of the ascending colon, the rate of new cases has decreased in all bowel segments. The relative 5-year survival rates with colorectal cancer are 65 percent for women and 63 percent for men.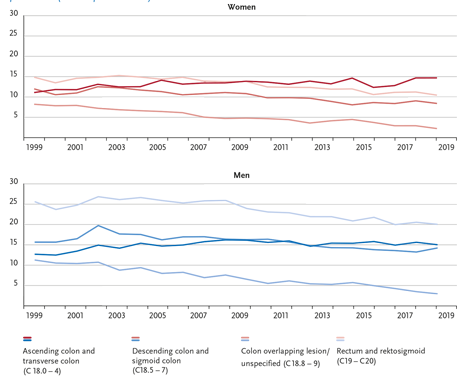 Age-standardised incidence rates of malignant neoplasms of the colon and rectum by localisation and sex, ICD-10 C18–C20, Germany (selected registries) 1999–2018, per 100,000 (old European standard population)
Nutrition influences tumour risk
The most important known risk factors for colorectal cancer are tobacco consumption and excess body weight. These are followed by a lack of exercise and a low-fibre diet. People who regularly drink alcohol or eat a lot of red or processed meat also develop colorectal cancer more often. First-degree relatives of persons with colorectal cancer are themselves affected more often than average. Some rare hereditary diseases confer a very high risk of developing colorectal cancer at a younger age.
Chronic inflammatory bowel diseases increase risk of the disease to a lesser extent.
What screening tests are available?
For the early detection of colorectal cancer, an immunological test for hidden blood in the stool can be carried out annually between the ages of 50 and 54 and every two years from the age of 55. Starting at age 50 (men) or 55 (women), the statutory screening programme provides for a colonoscopy. During this procedure, intestinal polyps that could develop into cancer may be removed. If the screening is negative, a repeat colonoscopy can be performed after 10 years. As an alternative to the colonoscopy, a stool test is offered every two years. If the test is abnormal, a colonoscopy is usually recommended.